4 Button Replacement Transmitter Wireless Remote Control Keyfob
4 Button Replacement Transmitter Wireless Remote Control Keyfob
$59.99
$59.99
Replace your wireless RF transmitter keyfob for our 4 button wireless remote control kit for DC applications. Easy to tie into your existing 4 function remote kit from Control All Wireless if you need to have multiple remotes tied to the same unit for rotating shifts or to simply have a spare. Use our 4 button transmitters on 12V applications such as boat lifts, trailer lights, dump trailers, RV lights, simple on off switches and much more.
SPECIAL ORDER PART
This is a part which isn't stocked on hand and will be a direct factory order. Expect 2-4 weeks additional shipping time and/or delays. due to higher than normal demand.
Description
Additional information
Reviews (0)
Description
4 Button/Function Replacement Wireless FR Transmitter KeyFob
4 Button Wireless Transmitter KeyFob Specifications
Part # KEYFOB4 is the replacement wireless transmitter from the 4 button wireless remote control kits sold by Control All Wireless.
Operational range of up to 500 feet from wireless transmitter to wireless receiver.
Instant wireless receiver activation to wireless DC receiver.
1 in 16 million address combinations ensure you can have many wireless transmitters added to each receiver if needed.
Up to twenty wireless 4 button wireless transmitters can be paired to a single 4 button receiver.
Wholesale discounts available.
Used commonly for wireless on/off switch, or wireless transmitter switches.
4 Button Wireless Transmitter KeyFob
Buy this replacement four button wireless transmitter keyfob only if you've already purchased one of our 4 button wireless remote control kits such as the 4DP2L2EFA, 4DP0L0EFA, or 4DP0L2EFA. This is a transmitter portion of those kits and will not come with the rest of the wireless conversion kit such as the receiver and any wiring. All new four button wireless transmitters will be shipped with a brand new battery. Easy activation into your existing 4 button wireless remote control kits with a simple pair with your wireless receiver.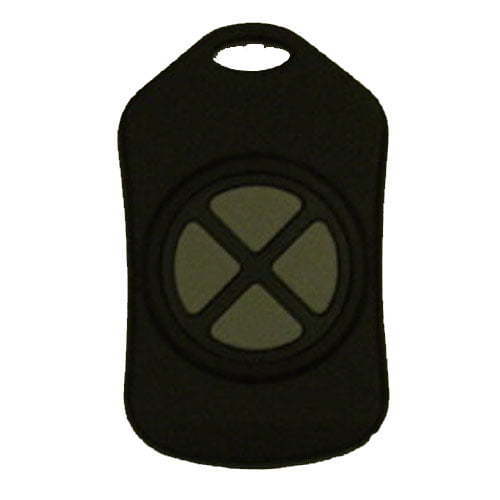 Additional information
| | |
| --- | --- |
| Weight | 0.50 lbs |
| Dimensions | 6 × 4 × 4 in |