All New Boss Walk Behind Spreader For Sidewalks and Walk Ways
Dave Botz
To a business owner, keeping the entrance and sidewalk to his or her business clear is necessary and is often included in snow removal contracts. Snow removal contractors need quality equipment in order to fulfill the contract requirements and reduce slip and fall injuries in the winter. Spreading de-icing material is like applying the finishing touch to taking care of snow and ice removal buildup.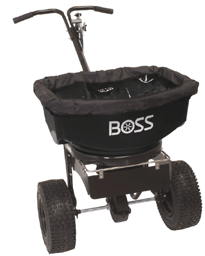 Walk behind spreaders and shovels are the most common tools used to take care of snow and ice removal buildup, especially near entrances and buildings. This season BOSS is introducing the NEW Broadcast Walk Behind Spreader from Chapin. This spreader is designed to withstand the elements while spreading de-icing material to clear sidewalks and walkways. Below is a list of features for the BOSS Walk Behind Spreader.
Capacity: Spread up to 80 lbs. of material easily.
Material Application: Partially assembled salt, ice melt, and halite.
Spread Pattern: Adjustable front and side baffles for directional control of the spread pattern.
Tires: 12″ Wide Tread Heavy-Duty Tires
Powder Coated Steel Frame
Spreader Application: Auger to help agitate material and minimize clumping.
Handle: Powder coated t-handle with rubber grips.
Gears: Enclosed metal gears offering protection from the elements.
Broadcast Walk Behind Spreader: WBS15850
It is important to note that before applying spreading material using the Broadcast Walk Behind Spreader, shovel and remove as much snow and ice as possible. This will allow the de-icing material to work most effectively. With the BOSS Snowplow Snow Pusher and the BOSS Broadcast Walk Behind Spreader, you will be well equipped to fulfill contracts and keep people safe!